I'm helping Southern Stay-at-Home Momma promote her Perfectly Posh Review and Giveaway! I am not responsible for choosing the winner or shipping the prize to the winner.
Perfectly Posh
Giveaway - June 25 - July 9
I feel truly pampered after reviewing some samples of Perfectly Posh's products. I received some samples from Trisha from Perfectly Posh and I'm eager to tell you about them. Also...each of you will have an opportunity to win a truly pampering product from Perfectly Posh -- you'll love it, especially if you're a fan of bath and body products!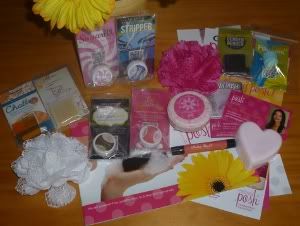 Perfectly Posh is a line of pure and natural products that are meant to pamper you like a day in the spa! Each of their products are made with earthy (literally) ingredients and are of the highest quality. Perfectly Posh takes pride in the fact that their products are free of paraben, paraffin, SLS, gluten, and soy -- they contain natural butters, oils, and other nourishing ingredients. Each product is gently preserved with vitamin E. Their fragrances contain essential oils and are pthalate-free -- not to mention they're purely intoxicating.
When I opened my box of samples I was in heaven. I'm keeping one of the samples I received intact because it makes my bathroom smell amazing!
Perfectly Posh have eighteen product categories, and they are as follows: Sinful Skin (Heavenly Body Lotion), Big FAT Yummy Hand Creme (spoil your hands), Handle (Solid Lotion Hand Bar), Hand Soap (SLS-free Foaming Pure Clean), Shower Gelee (SLS-free Body Wash), Play Footsie (fabulous feet products), The Stripper (D-TOX Purifying Body Mud), Sugar Fix (sweet all-over sugar scrub), Bombinators (life is too short for showers), Chunk (big, nourishing bath bars), Cajole (his and hers soap massagers), Funky Fingers (essential oil massage balms), Skin Sticks (The Healer and The Liberator), LipShot (Buttery Glosses and Balms), Oh, Peaches (fabulous sugar lip scrub), Easy Essentials (essential oils that go), HotJotters (Perfume Rollers and Solids), and Slather (big, opulent body butters). Lots of stuff, I know! I got to try a sample of a few of Perfectly Posh's categories that I listed above.
I really enjoyed using the samples I tried. Some of my favorites were the body lotion (Lei Away), body butter (Lemon Rice), and the body mud (The Stripper). I haven't tried any of the Bombinator samples (yet) I received because I don't even remember the last time I took a bath, but I'm using my "Hey Sugar! You Can Call Me Candy" sweet glitter bomb (in the Bombinator category) to keep my bathroom smelling heavenly. :) The body lotion and butter kept my dry skin feeling smooth, even after washing them throughout the day. And, you know that feeling you get when you've been out all day running errands and doing the weekly grocery shopping? The body mud takes care of that feeling and cleanses your skin -- after using it, I felt like I just got out of the shower! So, now that you've heard how much I enjoyed being pampered, it's time for the giveaway!
One of you lucky readers will win a Perfectly Posh bundle! Just enter via the Rafflecopter below -- good luck to those who enter! Giveaway dates June 25- July 9.